Spartan Global Community
---
About
Join Spartan Global Community to like, share and contribute to the conversation.
Connecting Spartans around the globe 🌎
The 2020 Spartan US National Series presented by Harley-Davidson kicked off in Jacksonville, Florida this past weekend. Over 8,000 racers attended, including Spartan Elite Athletes from all over the world!
9:08 AM
Canada's Ryan Atkins and Lindsay Webster took first place in the Men's and Women's Sprint.
9:09 AM
Here's the full Men's and Women's Leaderboard coming out fo the first event of the Series:
9:10 AM
Tune in for the next US National Series event this April in Seattle, Washington, as part of our #RoadToAbuDhabi where we'll host the 2020 Spartan World Championship Powered by Rakuten!
9:12 AM
Feeling a little slow at the gym today? Here's some advice from Spartan CEO, Joe De Sena, on when it's OK to quit in the short-term to achieve long-term goals:
7:53 AM
7:54 AM
Make sure if you decide to take it slow today, you're back at it twice has hard tomorrow. Aroo!
7:54 AM
Sport (Football, Tennis, Basketball, etc.)
5:09 PM
Spartans! What type of workout are you doing today? Let us know by voting below!
5:09 PM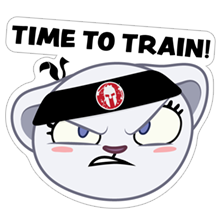 5:10 PM
Looking for the best way to recover after your workout today? Here are 3 Protein Tips to maximize workouts and recover faster!
8:46 AM
1. Get Protein within an hour of resistance training.
8:47 AM
Introducing amino acids shortly after ending the stress stimulus will likely start muscle repair and growth sooner, rather than delaying protein ingestion. As a general rule, the more protein you had before the workout, the longer you can wait to get protein after, but get it done sooner if possible.
8:48 AM
2. If you can, make it whey protein.
8:48 AM
If you're not vegan or allergic to it, whey protein is best. Because it is of higher quality and easier to digest, most literature overwhelmingly indicates whey protein to promote enhanced effects on muscle protein synthesis compared to soy and casein protein types.
8:50 AM
3. Adjust for size and age.
8:50 AM
"If your goal is to primarily increase muscle strength and size with resistance training, the ingestion of 0.3 to 0.4 grams of whey protein per kilogram of body mass has been shown multiple times to be optimal to maximize the muscle growth response to resistance exercise." - Donny Camera, PhD
8:51 AM
That said, at age 55, the protein requirement increases by 70 percent at each meal to "maximally stimulate MPS and achieve equivalent rates compared to younger (20 to 35 year old) adults," Camera says. Use these facts to guide your protein intake and maximize the anabolic gain from your resistance efforts.
8:51 AM
Do you struggle with the Atlas Carry, one of the heaviest lifts on our course? Check out these helpful tips to get the right Grip, Lift and Drop!
2:05 PM
2:05 PM
Spring is right around the corner! Get outside and run some local trails with these helpful tips!
11:17 AM
Start Slowly: Focus less on speed, and more on overcoming the challenges of running trails. Work on developing the skills it takes to avoid roots and rocks before focusing on the speed of your run.
11:17 AM
Get the Gear: Street shoes won't do the trick when it comes to running on natural terrain. Trail shoes have stronger traction and durability. This will go a long way when it comes to preventing injury.
11:18 AM
Stay on the Trails: It may be intriguing to go off the beaten path when trail running, but it's not a good idea. Going off of the trail can lead to getting lost, falling, or getting injured. Rest assured, every trail offers various unique vantage points and scenery, so stay on the trail and stay safe!
11:19 AM
Whether you're running competitively or leisurely, the right nutrition is key to finishing any Spartan race. Are you fueling up correctly before a race?
9:56 AM
The Morning of the Race: Eat 90 minutes before race time, and stick to what you would normally eat for breakfast. Don't try anything new on race day!
9:56 AM
After the Race: The 30 minutes right after the race are vital and you should be ingesting quickly-absorbed proteins, fats, and carbohydrates. This can include a small sandwich and some fruit, some chocolate milk, or even a shake to kick-start the recovery process.
9:56 AM
We have four races this weekend worldwide. Where are you headed?
1:09 PM
1:09 PM
Spartans were crushing the courses across the world last weekend. Check out some of the highlights!
4:11 PM
4:12 PM
Whether you're a Spartan veteran or a newbie, The Beater can be difficult for almost anyone. Check out this video for some helpful tips on overcoming this obstacle!
3:11 PM
3:13 PM
Find your workout buddy, its #WorkoutWednesday! Try these fun exercises and burn some calories with a friend!
2:42 PM
2:42 PM
Spartans, In a time when inspiration and resiliency are most needed, we have decided to quickly adapt how we rally and support our ever so strong Spartan community. We have been working with local government agencies across the US in monitoring the effects of COVID-19, and as a result, we have suspended all scheduled events over the next 30 days. The majority of these events will be postponed until later in the season, with dates to be announced in the coming weeks. We are offering free deferrals for anyone who has registered, or registers for a 2020 US Spartan Race®, Spartan Kids®, Spartan Trail™ or DEKAFIT™ event. To support you over the next 30 days and to rally our community we are launching our FREE 30-day "BeUnbreakable" program across all spartan social channels. We want you to keep your bodies strong, minds sharp and spirits high so you are ready when the races return. BeUnbreakable will provide you with training and nutrition content and the inspiration you need to keep you motivated. Stay tuned for more details next week. With COVID-19 impacting events across the globe, our international race markets will have different policies in place, so please pay attention to communications for your specific event for more information. Thank you for your grit and commitment to the community. #BEUNBREAKABLE
11:48 AM
Spartans! Here is your Unbreakable Day Recap:
8:53 AM
Another day, another chance to #BeUnbreakable! Here's your daily recap to help you TRAIN, EAT, and THINK like a Spartan!
11:26 AM
No excuses - #BeUnbreakable!
11:29 AM
Is it hot in here, or is it just a workout from Spartan Pro Emilee Stevens? Whether you're wrapping up your day or just getting started, follow along with her 15 Minutes of Fire workout, but be warned — you'll need water on hand.
10:29 AM
Read for your Daily Unbreakable Recap? Here are some videos to help you TRAIN, EAT, and THINK like a Spartan - everything you need to know to #BeUnbreakable!
12:29 PM
TRAIN: A Tabata At-Home Workout with a Spartan Pro - presented by Ashoc Energy
12:30 PM
Another day to #BeUnbreakable! Keep your fitness, nutrition, and mind RIGHT.
11:56 AM
Don't let the weekend keep you from being Unbreakable! Maintain your healthy habits through Saturday and Sunday and keep a routine. Here are some tips to keep you moving:
3:18 PM
3:21 PM