FK Crvena zvezda
---
About
Join FK Crvena zvezda to like, share and contribute to the conversation.
Naši fudbaleri su iskoristili slobodan dan za druženje i nožni golf 😊
7:55 AM
Zvezdaši sjajne vesti! Posle jučerašnjih, rekordnih, 355 kupljenih sezonskih ulaznica, danas je postavljen novi rekord. Klub je danas izdao 358 pretplatnih karata! Neizmerno Vam hvala što nastavljate da dolazite u sve većem broju iz dana u dan 🙏👏🏆🥇 Možemo li sutra još više? 😊
3:09 PM
Delije imaju poruku za sve navijače:
9:44 AM
Звездаши, Делије...да не дужимо много! Позивамо све оне којима је наш клуб стварно у срцу, да дођу у суботу испред зграде спортског друштва у 12 часова, где ћемо се скупити, надамо се у великом броју, и одакле ћемо заједно отићи да обновимо чланство и извадимо сезонске карте уа следећу сезону. Ово је лична карта свакога ко себе сматра делом породице која је уз клуб нон стоп, и зато позивамо све Звездаше, Делије групе, градове, крајеве, млађе, старије...који препознају значај ове акције, да се појаве у суботу у 12, и да бројношћу покажемо и дамо пример осталима, шта треба да следе! Да закотрљамо Звездашку причу како наш клуб и заслужује последњих година! Време је да Звездаши коначно дају повратни сигнал клубу који је у последње време много испред трибина нашег стадиона, а и да није, ово је ствар која треба да постане најнормалнија за свакога ко себе сматра навијачем! Почнимо полако да градимо културу одласка на стадион заједно! Времена има довољно да сви наместе своје обавезе тако да могу да се појаве на овом веома битном Звездашком скупу! Субота 12 часова-сви на стадион!
9:44 AM
Феноменални дани за све звездаше се настављају 😊 Данас је оборен нови рекорд!!! Купљено је 4️⃣0️⃣7️⃣ сезонских улазница 👏👏👏 Податак за понос и нови мотив за сутра. Сутра је велика акција куповине сезонских, а пошто је и субота очекује се постављање новог још убедљивијег рекорда. Зато дођите и обезбедите своје место на Маракани! Хвала Звездаши и видимо се сутра!
3:07 PM
11:01 AM
Ekipa je stigla u Litvaniju, a dočekala ju je kiša i hladno vreme. Ipak, to ne kvari dobro raspoloženje 😊
6:27 AM
Tri ili više golova razlike u Zvezdinu korist
11:28 AM
Koji rezultat očekujete večeras na meču Suduva - Crvena zvezda?
11:28 AM
Kako se na Marakani pratila Novakova pobeda 👏👏👏🏆
2:30 PM
Vujadin Savić je prešao u APOEL, ali ostaje deo Zvezde i ove grupe 😊
6:46 AM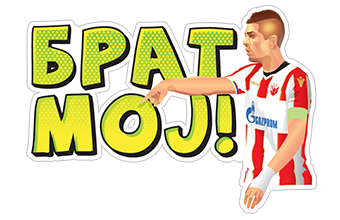 6:46 AM